Getting Started
There are a number of steps involved in obtaining your permit or license. Now that you have decided to learn to fly, your best option is to start with Future Air's Discovery Flight.
This Discovery Flight covers aircraft control, all pertinent safety checks, and is approximately 30 minutes in duration, during which you will gain your first hands on flying experience in the aircraft.
How the Lessons Work
The lessons in the aircraft are conducted around your schedule and the weather. Prior to each lesson you will have Ground Instruction. This ground training will specifically address each and every "In Flight" exercise to be conducted, review the essential background knowledge and ensuring a thorough understanding of the related theory of flight, the proper procedures and safety considerations prior to all flights. This ensures that you are prepared for that lesson, maximizing training efficiency once in the aircraft.
Once the ground training has been completed you and the instructor head out to the aircraft to get the hands on practice in-flight that was discussed during the ground instruction.
Each flight typically runs approximately 1 hour, however lessons can be up to 3 hours in duration depending upon the exercise to be covered.
All flights are "pay as you go" as Future Air does not require any type of prepayment for flight training.
Flight training at Future Air is conducted in accordance with the standards and guidelines established by Transport Canada.
Pre-solo requirements
Once you start your training, it won't be long before you're ready to fly solo. There are a few steps that you must undertake before you can fly the aircraft by yourself for the first time.
There are 2 minor written examinations that you will need to complete. The PSTAR which covers a broad range of aeronautical knowledge and a VHF Radio Operators Certificate.
In order to fly solo (by yourself), you must have a valid aviation medical certificate. Depending on your choice of permit or license you must either go to your Family Doctor or a Transport Canada Aviation Medical Examiner.
Licensing Requirements
In order to hold a permit or license you must pass a written examination and a practical test in the aircraft. You will also need to complete all training requirements for the permit or license. You must also complete an Aviation Language Proficiency test.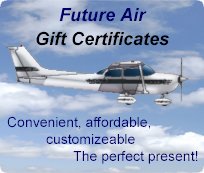 "I received my PPL with Future Air in the summer of 2011 and found the training to be excellent. The instruction was organized and detailed with professional feedback throughout each exercise. Going into my flight test I felt confident and well prepared, with great test results as an outcome."

David Gascoine