Flight Training with Future Air
How Do I get started Learning to Fly?
The question always asked of me is "how do I learn to fly?", my typical response is to gather as much information on the different courses, either a Recreational Pilot permit or a Private Pilot Licence as possible. Look at the privileges of each course (what you can do with them after you are licenced). Then look at the training time involved with each course. The problem with the training time is that everyone learns differently, which is great; however this tends to lead to a difference between the government mandated minimum times and what the student typically ends at.  

The Transport Canada minimum for a Recreational Pilot permit is 25 hours of in flight training. Future Air's typical student will be licenced for a Recreational pilot permit in the 30 to 35 hour mark, experience has shown us that this is a realistic estimate for completion of the Recreational Pilot permit.  
The best way to start to learn to fly is with a Discovery flight. This typical flight will walk you through some pre-flight information, aircraft preparation, take off and inflight maneuvers. Future Air recommends this as a good introduction to what you can expect with each flying lesson. This short 30 minute introductory flight lesson is a good gauge as to whether you want to continue with getting a permit or licence or not.  
How do the Flying Lessons work?
Each flight lesson is broken down into ground training and in-flight training. Ground training (not to be confused with ground school) covers all related theory, procedures, safety, weather and aircraft performance information. The length of this ground training depends upon your preparation and the material to be covered in-flight. These 'Pre-flight briefings' ensure the instructor and student have equal understanding of what is to be covered in the air and what the goal of the lesson will be. It also allows the student a chance to ask any questions they may have. This will ultimately make the time spent in the aircraft as efficient and productive as possible, reducing the total time required to complete the license and lowering the overall cost. The in-flight portion provides you with the hands on practice of maneuvering the aircraft as needed. Just like driving a car practice makes perfect. At the end of the lesson, students can expect a 'Post flight debriefing'. This provides you and your instructor a chance to review the flight and discuss the strengths and weakness of your performance as well as what to expect on the next flight.  
What questions should I ask about Flight Training?  
Some people immediately focus on cost, although very important, this should be well down on the list of questions, start with how experienced is your staff? An experienced flight school with experienced flight instructors will help you reach your goal sooner and at less cost to you. You may want to ask how long they have been instructing and why they like being a flight instructor. Many pilots become flight instructors as a way to gain the experience required to land that 'big job' with an airline. If you meet an instructor who has been teaching for a long period of time, they likely enjoy doing what they are doing and will pass that experience and enthusiasm on to you. Does the flight school offer ground school and if so, how often does it run? You ideally want to learn to fly with a school that has the facilities and programs in place to provide all the training required. Being told to complete ground school online or with another school can add confusion to the process and increase the chances of missing something.  You will want to know what type of aircraft the flight school uses, are they standard to the industry? The Cessna 150, 152 and 172 have long since been the industry standard in flight training. They are strong, durable, they have a low operating cost and low maintenance costs, which will mean your final training costs will be lower. You may also want to ask how long the company been in business, how many students have graduated from the school or many students are currently enrolled with the flight school and will your training be done with one instructor or will you be with multiple instructors.  

Remember that every student learns at a different pace, so the cost provided will always be a ball park figure. Doing your research and asking the above questions will help you determine which is most important to you. 
Don't be afraid to look around and compare different schools. Ask for references. Ask to talk to the instructor who will be training you. You will be spending a lot of time with your instructor and you want to make sure your personalities are going to work together. Don't fall for high pressure sales tactics like "well we are busy but if you sign up now then we can do ..." 
The right school will spend as much time as needed to make you feel comfortable with your selection, answer all of your questions and never pressure you in to signing up.  
Contact us today with any questions, we are always welcome to answer them!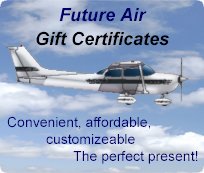 "I completed my training with Future Air Collingwood. I had absolute confidence in the preparation for my exams with the help of their Professional, knowledge, experienced staff Future air was instrumental in helping me begin my career as a professional pilot. Thank you Future Air in helping me get my start."

Cam Twible