Ground School
The aim of Ground School is to provide you with the knowledge to make you a safe pilot. To this end we have designed and modified the Ground School syllabus over the past 12 years to achieve this goal and to ensure that you gain the most benefit from the material.
Ground School is completed in a classroom setting and we limit the class size to 12 in order to provide the best interaction with all attendees. Ground School runs separately from Flight Training but is an integral part of your overall success as a pilot. Many students find that doing Flight Training while taking Ground School enhances their understanding of each.
Each Ground School session is an individual module. Doing it this way ensures that if you miss a session it will not affect the rest of the course - you will not be left behind.
The Ground School covers the following topic areas:
Air law and Airspace
Engines and Airframes
Theory of flight
Meteorology
Flight Computer
Flight Operations
Flight Instruments
Human Factors
Pilot Decision Making
Practice Exam
The Transport Canada stated minimum for Ground School is dependent upon which license or permit you choose is the best fit for your needs.
Recreational Pilot Permit - 40 hours
Private Pilot License - 40 hours
Commercial Pilot License - 80 hours
Instructor Rating - 25 hours
Instrument Rating - 40 hours
At Future Air we feel that there is difference between meeting the minimums and ensuring a complete and thorough understanding of the required material. To this extent our custom designed Ground School course exceeds the Transport Canada stated minimums.
Recreational Pilot Permit - 60 hours
Private Pilot License - 60 hours
Instrument Rating - 60 hours
In the event that you are not able to attend an individual class you are invited to make up the class by several different methods. Future Air runs Grounds Schools at all our locations continually throughout the year and you are welcome to make up the missed class at one of our other locations. You can book the Ground School instructor or any of the Flight Instructors for an individual lesson. You can also make up the missed class by self-studying the material.
As one of our students you have access to notes and homework assignments that can be downloaded from the website as well as our Forums where you can interact with other students and our instructors to get answers to your questions.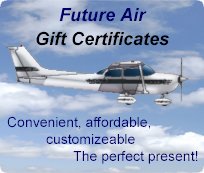 "I am a Private Pilot with nearly 600 hours and have had the pleasure of doing all my recurrent training over the past 8 years with Future Air. My experiences with Future Air has been superb. The training has included Instrument Rating preparation, General Skill refresher and most recently the full ground school course. In all instances the training was very professional and delivered in a pleasant and effective manner. As an experienced pilot I fully appreciate the need to make learning and training a life long experience. Future Air delivers outstanding training to all levels of pilots and I would not hesitate to recommend them to both experienced and new pilots."

David Garner