Night Rating
Night flying can be both a rewarding and a challenging experience. Adding the Night rating to your license expands the time frame that you can enjoy flying. When the days grow short and the sun light is limited you can partake in the joy that night flying will provide.
In order to fly an aircraft at night you must be holder of a Night Rating. The Night Rating can be added to a Private Pilot License.
The training towards a Night Rating consists of 5 hours Dual (with an Instructor) within this 5 hours of Dual is a 2 hour cross-country, 5 hours Solo (by yourself) at night. You must have a total of 10 hours of Instrument Time.
There is no Ground School requirement, no Flight Test or written examination is required for the Night Rating; however you must be recommended to hold the Rating by your instructor.
You can start training towards the Night Rating at any time after you complete a Private Pilot License and the in-aircraft training takes place whenever you are able to schedule a lesson.
Individuals may in some cases exceed these requirements before being recommended for a Night Rating.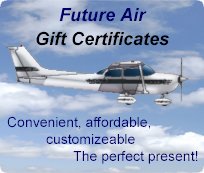 "I received my recreational pilot's license at the age of 19 and could not have done so without Future Air. They worked hard with me to prepare me for my flight test and to pass my ground school exam. They were very flexible with hours and made themselves available whenever they could to fly with me or to help me study. Future Air is an exceptional company and has surpassed all of my expectations. I am so lucky to have had such great people teach me how to fly! "

Lindsey Carswell