VFR Over the Top
As you fly, you will encounter situations when you are planning to go to another airport where the weather there is good however the weather in between is poor. The VFR over the Top rating is designed to allow you to fly over poor weather en-route to your destination during daylight conditions only, thus allowing you to fly in a wider range of weather conditions.
Flying VFR Over-the-Top allows you to fly with reference to a layer or layers of cloud instead of the ground. This type of VFR flying offers challenges that require advanced training in instrument flying and radio navigation skills.
In order to fly VFR Over the Top you must be the holder of a VFR over the Top Rating. The VFR Over the Top Rating can be added to a Private Pilot License.
The training towards the VFR Over the Top Rating consists of a minimum of 15 hours dual instrument time. This training is geared towards building your skill in flying the aircraft without reference to the ground.
There is no Ground School requirement, no Flight Test or Written examination required for the VFR Over the Top Rating; however you must be recommended to hold the Rating by your instructor.
You can start training towards the VFR Over the Top Rating at any time after you complete a Private Pilot License and the in-aircraft training takes place whenever you are able to schedule a lesson.
Individuals may in some cases exceed these requirements before being recommended for a VFR over the Top Rating.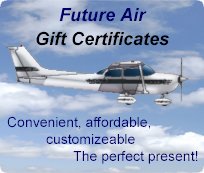 "I completed my training with Future Air Collingwood. I had absolute confidence in the preparation for my exams with the help of their Professional, knowledge, experienced staff Future air was instrumental in helping me begin my career as a professional pilot. Thank you Future Air in helping me get my start."

Cam Twible