Future Air News
October 1, 2014 · Congratulations to Robert Campione on his Night Rating !!
Future Air wants to congratulate Rob Campione on completing his Night Rating out of the Collingwood location of Future Air, Sept 30, 2014!
Check out our Facebook page to see our graduates including Rob!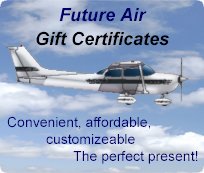 "The dream of flying has been with me from an early age. Having set that dream aside due to other priorities, many years passed and I found myself in my late 30s wondering if I would ever earn my wings. As fate would have it, I discovered Future Air, and decided to enrol in their Flight Training program. I booked my first flying lesson and through continued determination, focus, and my passion for aviation, I was able to complete all of the required training, and eventually pass both my written and flight exam. Thus finally making a childhood dream come true! Future Air guided me every step of the way from start to finish. Their instructors are highly knowledgeable individuals with a passion for aviation. I would highly recommend Future Air to anyone who wants to earn their wings and take to the skies. For a career, or for pleasure. Their aircraft are well maintained, a pleasure to operate, and to this day, I still utilize the services of Future Air by renting their aircraft to take family and fri"

Daniel Silva