Future Air News
September 11, 2009 · Owen Sound
We are pleased to announce that Future Air is expanding into Owen Sound Billy Bishop Airport CYOS. We are excited about this new opportunity.
This adds to our current locations of Collingwood, Barrie Lake Simcoe Regional Airport and Midland.
We hope to be operational in Owen Sound by September 15 and we look forward to helping those in the Owen Sound achieve their aviation goals.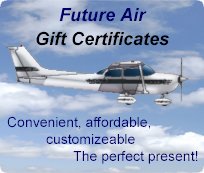 "I have nothing but the utmost praise for the caliber of service provided to me over the 14 years I have been flying with Future Air. I have been a licensed commercial pilot for close to 40 years now. I have worked at various locations throughout the province of Ontario and have flown with numerous other flight training and rental service providers. By far, Future Air has given the best overall customer service. Your instructors and dispatchers have always been very courteous and professional. Your fleet of aircraft have always been well maintained and an overall pleasure to fly. I have been very impressed with Future Air's attention to safety and the wealth of information on its web site. As a recreational rental pilot, your instructors and dispatchers have always been accommodating in meeting my requests for booking times and aircraft. When weather conditions or maintenance problems have affected the ability to meet these requests, your staff have always made the effort to contact me at home or wo"

Michelle Zillinger