Future Air News
August 27, 2007 · Add Your Name to our Professional Pilot Program and Save Money
The Private Career College Act 2005 of Ontario has, until now, not been applied to Flight Schools in Ontario as all Flight Schools in Canada operate under the auspices of Transport Canada and the Flight Schools and all their programs are structured, monitored and audited by Transport Canada.

The application of the Ontario PCC Act will affect only Commercial and Instructor Students at Future Air and will come into force on September 17, 2007. All students who register in these courses after that date will be covered by the Act. They will also have to pay more for their training.

The Act provides that should a Flight School go out of business while it has Commercial or Instructor students, those students and only those students will be guaranteed to be re-imbursed any money that they have advanced to the school that has not been used to pay for already taken lessons or flights. For example, if a student had put $3,000.00 on deposit and had done $2,000.00 worth of training that student would be certain to get back $1,000.00 either from the Flight School or if the Flight School could not provide the funds then the government program would pay the money once the student has submitted the necessary forms with proof of payments and corresponding invoices. We have no idea how long the student will have to wait for his money.

Since the vast majority of our students pay as they go, this provides no real value to them as they have no risk of loss. Of course all students' training is transferable to any other Flight School so there is no additional cost necessitated by changing schools.

There are however additional costs that will be added to all Flight Schools that participate in this program. There are annual fees plus a percentage of our billings each year must be contributed to a fund that is available to all Private Career Colleges, not just Flight Schools. Due to these additional costs we have no choice but to implement a $250.00 per student per applicable course application fee (Commercial and Instructor courses only). There will also be an additional charge for each training session for these courses. That charge is yet to be determined but we will do our utmost to keep it as small as possible. Students registering in these courses will also have to sign a contract with the school. This is required by the PCC Act.

All Flight Schools in Ontario are fighting this requirement. It was sprung on us in February of this year with no consultation with any Flight School. We may have no choice but to participate, but in the meantime Future Air is doing what it can to protect our clients and students.

As a current customer and/or student of Future Air, you can avoid all of these additional charges by simply registering with us as a Commercial and Instructor student. There is no cost to you to do this, simply sign and date the enclosed form or go to any of our offices where you can register. You will not be required to sign a contract either. Please note that not only is there no cost to do this, there is also no requirement that you take any training. Registering with us will protect you from having to pay these fees should you choose to take either or both of these courses for the foreseeable future. There will no doubt be a date beyond which this registration protection will no longer apply.

If you have any questions, please feel free to ask any of our instructors who will do their best to assist you.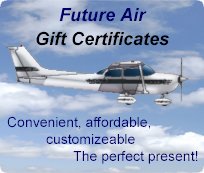 "After deciding to begin my pilot training, I spoke to numerous flight school but began training with Future Air on the recommendation of a friend. Having trained with a number of instructors at Future Air, they have all consistently exceeded my expectations. The group is professional, and makes booking lessons and flights easy. The training was thorough, supportive, and really made me feel prepared for my exams. I would highly recommend Future Air for anyone learning to fly."

Paul J Lynch