Future Air News
February 10, 2011 · Private Pilot Groundschool
We are starting a Private Pilot Groundschool starting March 01, 2011 at our Collingwood location.

This session will run on Tuesdays and Thursdays and is expected to be completed in Ten weeks.

For those who are interested in attending, please contact our Collingwood office as soon as possible as the available seats are now limited.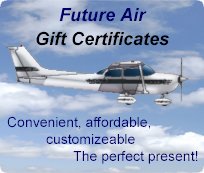 "I received my recreational pilot's license at the age of 19 and could not have done so without Future Air. They worked hard with me to prepare me for my flight test and to pass my ground school exam. They were very flexible with hours and made themselves available whenever they could to fly with me or to help me study. Future Air is an exceptional company and has surpassed all of my expectations. I am so lucky to have had such great people teach me how to fly! "

Lindsey Carswell