Future Air News
October 31, 2011 · Future Air Forum
Future Air is pleased to announce that it has added a Future Air Forum selection to the Member Menu on the web site.

Selecting Future Air Forum will open a new window in your browser to provide you with access. Without logging into this new site, you can access the postings of others but will not be able to make any of your own postings. In order to have full access you must create an account and log in. We may have created an account for you already so you should try that first. Your username will be your first name followed by your last name and your password will be the street name that you have provided to us. For example, John Smith who lives at 25 Hollywood St. will have a username of JohnSmith (note the capital letters and no space between the names) and a password of Hollywood. When you log in the first time we recommend that you change your password. Please note that you must have an email address in order to use this forum. If you have to create your account then please use the above method to create your username.

We created the Future Air Forum to provide a place where our students and renters can ask questions and exchange ideas. We have established four basic forums to start. The first is a Welcome Forum where we have made an attempt to explain how to use this service. Please read the posting in there first. The second is a General Conversation Forum. The third and fourth Forums are specifically directed to the PPL and CPL Ground Schools.

Our instructors will monitor the Forums and try to provide answers to your questions when other members cannot. Yes that means that there is an expectation that you participate completely. We fully expect that some of the conversations will be of interest to all members including the instructors and moderators.

We do ask that you maintain normal decorum when posting to the forum. Foul language will not be acceptable nor will shouting be permitted (THAT IS, POSTING ALL OR PART OF YOUR MESSAGE IN CAPITAL LETTERS). We would also appreciate it if you did not try to advertise products or services. We will not accept abuse of any of our members or instructors either. Any of the above can get you suspended from the site for a period of time or even banned if you are a multiple abuser.

If there is another forum that you would like to see added to the site please let us know and we will consider it.

We hope that you will participate in this new service and look forward to any comments that you may have about it.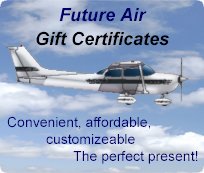 "I have nothing but the utmost praise for the caliber of service provided to me over the 14 years I have been flying with Future Air. I have been a licensed commercial pilot for close to 40 years now. I have worked at various locations throughout the province of Ontario and have flown with numerous other flight training and rental service providers. By far, Future Air has given the best overall customer service. Your instructors and dispatchers have always been very courteous and professional. Your fleet of aircraft have always been well maintained and an overall pleasure to fly. I have been very impressed with Future Air's attention to safety and the wealth of information on its web site. As a recreational rental pilot, your instructors and dispatchers have always been accommodating in meeting my requests for booking times and aircraft. When weather conditions or maintenance problems have affected the ability to meet these requests, your staff have always made the effort to contact me at home or wo"

Michelle Zillinger