Sightseeing
Aerial sightseeing is one of the most spectacular activities available in Central Ontario. Often referred to as the highlight of many tourists' vacations as well as for local residents, Aerial Sightseeing offers breathtaking and awe-inspiring views, incredible photograph opportunities. They are also an excellent way to introduce youngsters to their first flying experience.
You have an amazing group of sites to visit by air. From the deep valleys carved out by slow moving glaciers of 10,000 years ago, to picturesque towns at the foot of ski slopes, shipwrecks through crystal clear waters, vast lush forests, a huge array of rivers and lakes, and miles of brilliant beaches, Central Ontario is home to some of the most amazing sights you will ever see.
Sightseeing tours can be any length of time, They can be as brief as 20 minutes or as long as 4 hours. Customize the time frame to best suit your needs, just ask one of our highly trained staff on the popular options.
Aerial sightseeing makes a great gift! What better way to make a lasting impression than an Aerial Sightseeing flight! Ideal gift for a Birthday, Anniversary, Wedding or any other special occasion!
Aerial sightseeing is a year-round spectacle. The greens of spring, the glory of summer, the colours of autumn and the stark brilliance of winter are all available to you.
Future Air uses the Cessna 172 which is a four seat aircraft that provides a comfortable flight of both long and short duration. These well maintained aircraft can accommodate 3 passengers. Flights can be arranged 7 days a week all year round during daylight hours.
The time is charged only while the engine is running, so a half hour flight will include approximately five minutes on the ground and twenty five minutes in the air while a one hour flight will include approximately ten minutes on the ground and fifty five minutes in the air. Some conditions apply such as load limits which could restrict the number of passangers on board. All flights depend on suitable weather and aircraft availability.
To book your flight, simply call or email us and reserve an aircraft.
Enjoy your flight!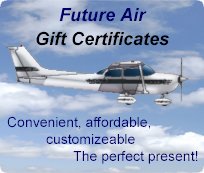 "Between April 2011 and November 2012 I received my PPL and my Night rating with Future Air. I did the majority of my PPL training with Peter Ross, Night rating with Jose Goncalves and some review and pre-flight test training with Cam Twible. Three very good instructors with three different teaching styles that come together for very effective training. Everyone involved did everything they could to make sure I finished as quickly and as efficiently as possible. I had the utmost confidence going into my written and flight tests with the training I received. "

Devin Speers